Et opptak med Louis Armstrong fra januar 1950 vil i nær framtid bli utgitt av amerikanske Dot Time Records i samarbeid med Louis Armstrong Educational Foundation. Det vil bli den første av fire Armstrong-utgivelser i Dot Time Records «Legends» serie. Den andre utgivelsen vil være et opptak fra Sør-Amerika i 1957. Under denne artikkelen følger Dot Times pressemelding om utgivelsene.
Opptakene er funnet i samlingene til Louis Armstrong House Museum ved Queens [ikke Queen's som det står i pressemeldingen] College, et college under paraplyen City University of New York, lokalisert som navnet tilsier i bydelen Queens.
Louis Armstrong, Los Angeles, 20. januar 1950
Når Dot Time Records hevder at opptaket fra januar 1950 er et tidligere uutgitt opptak, er det en sannhet med visse modifikasjoner. Dette er et opptak til et radioprogram fra 1950 i en serie som ble kalt «Musical Map of America», sponset av Standard Oil – eller Esso (dvs. S-O) som vi kjente det som i vår del av verden.
Episode 19 var kalt «Musical Story of New Orleans» og ble visst nok aldri sendt. Men et redigert produkt på ca. 15 minutter ble laget for distribusjon på plate som såkalt «radio transcription» til radiostasjoner i USA.
Dette redigerte programmet ble i 1976 utgitt som del av samle-LP-en «Jazz Giants» på lablen Giants of Jazz. Men i følge pressemeldingen får vi nå totalt 55 minutter fra dette, med bl.a. Jack Teagarden, Earl Hines og Lyle Johnson, og ikke bare 15 minutter. Nedenfor er en faksimile av side 204 i Jos Willems' Louis Armstrong diskografi «All of Me» med det som er kjent av opplysninger om hele opptaket.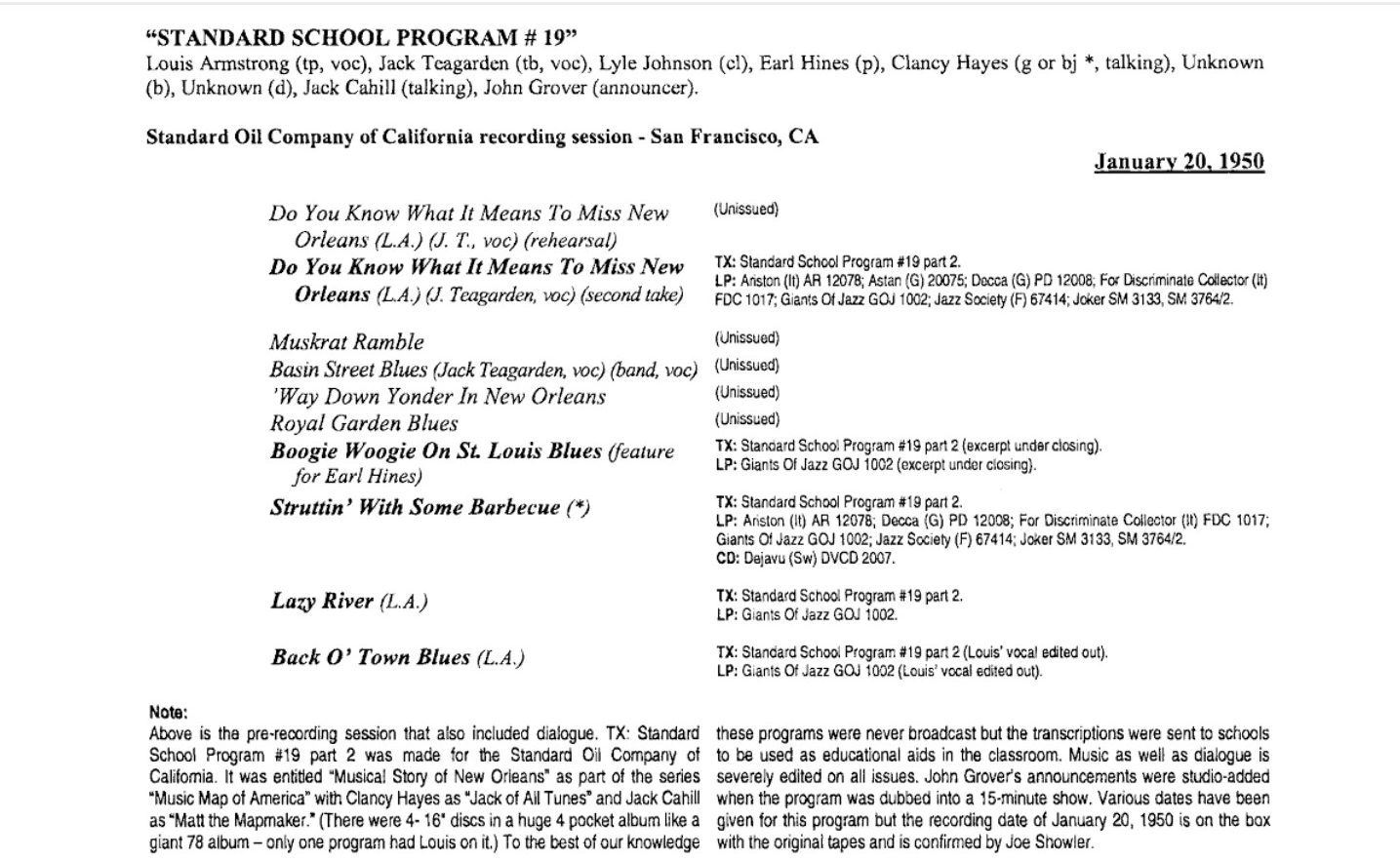 Om jeg tolker de nye informasjonene riktig, har de nå funnet komplette acetat-disker i samlingen – disker som Armstrong fikk med seg hjem etter opptaket. Såvidt jeg kan se er det da ca. 40 minutter som ikke tidligere er utgitt, forhåpentligvis dermed også komplette versjoner av de låtene som ble redigert ned.
Louis Armstrong i Sør-Amerika 1957
I tillegg vil vi seinere få bl.a. en dobbelt-CD med opptak av en konsert fra en seks-ukers turne i Sør-Amerika i september-oktober 1957. Dette året er jo en milepæl i Armstrong-historien. Dette var på den tiden han reiste verden rundt som «ambassadør for den frie verden», med turneer finansiert bl.a. av de amerikanske utenriks- og forsvarsdepartementene. I likhet med andre musikere som deltok på samme måte – Dizzy Gillespie er et åpenbart navn – var han usynlig på den politiske arenaen. Og mest tydelig var dette for den voksende borgerrettsbevegelsen i USA.
Mange – og spesielt i afro-amerikanske kretser – kritiserte ham for at han ikke brukte sin posisjon, og for hans «uncle Tom-ming» i offentligheten. Men like før han skulle dra på den sør-amerikanske turneen skapte Armstrong furore i amerikansk politikk – og ble gjennom det allikevel et symbol for afro-amerikanernes kamp for borgerrettigheter.
Helt i begynnelsen av september hadde guvernør Orval Faubus og hans kumpaner nektet adgang for ni afro-amerikanske elever til Little Rock Central High School i Arkansas. Dette for å bryte det pålegget om desegregering av amerikanske skoler de var blitt pålagt av en lokal dommer. De ni elevene ble verdenskjent som «the Little Rock Nine». Vi kjenner jo ellers historien godt gjennom Charles Mingus' politiske manifest «Fables of Faubus» fra 1959.
I et avisintervju to uker seinere av en lokalavis i Nord-Dakota langet Armstrong hardt ut mot guvernør Faubus – og mot president Eisenhower som ikke hadde grepet inn. Riktignok sendte Eisenhower inn militære tropper for å sikre de ni sin adgang til  skolen, men det var først en uke etter at Armstrongs bannbulle hadde eksplodert som en hydrogenbombe i offentligheten.
«The way they are treating my people in the South, the [US] government can go to hell», sa han da den føderale regjeringen ikke hadde grepet inn. «It's getting almost so bad a colored man hasn't got any country» fortsatte en sint Armstrong. President Eisenhower var «two faced, and had no guts». Om guvernør Faubus, brukte han «a double-barreled hyphenated expletive, utterly unfit for print» som New York Times's Op-Ed skribent David Margolick beskrev det femti år seinere. Armstrong og intervjueren falt i skriftlig form ned på en noe mindre provoserende formulering, Faubus var en «uneducated plow boy».
Dette var så provoserende at ikke bare mistet den unge journalisten som gjorde intervjuet jobben sin, men en radiostasjon i Mississippi kastet i protest ut alle sine Armstrong-plater. I tillegg til flere krav om boikott av Satchmos konserter, sies det også at FBI startet overvåking av ham.
Men da han kom til Sør-Amerika var alt dette fjernt. Her var han stjerne. Det var en så voldsom tilstrømning av fans da han landet i Buenos Aires, at Armstrong måtte bære en baseballmaske foran ansiktet for å beskytte ansikt og lepper. Han ble behandlet som en konge i Argentina, i Brasil, i Chile og i Venezuela. Nå får vi altså en av de i alt 67 konsertene han holdt i Sør-Amerika disse seks ukene.
Tekst: Johan Hauknes
Dot Time Records is proud to announce its partnership with the Louis Armstrong Educational Foundation, Inc. This newly established agreement will include four previously unreleased productions from the archives of Queen's College, which houses the Louis Armstrong collection. The releases will be part of the Dot Time Records 'Legends' series.
Jerry Roche, who heads the Legends Series for Dot Time Records, was in search of undiscovered gems by Armstrong and was stunned by what he found when researching the archives. "When I heard this music by Louis Armstrong", said Roche, "I was totally overwhelmed. Producing this music would mean people could connect again with the greatness of Louis Armstrong." Roche who will be producing this series of never before commercially released music said, "I made it my mission to make the music available."
The productions will be available in CD, Vinyl and Digital formats. In addition a special collector's edition will also be available. More information on the collector's edition will be published next month.
The first release in the series, which will be released mid May and will feature a 1950 studio recording. This 55 minute recording was recorded in San Francisco, California on January 20, 1950 by the Standard Oil Company for their radio show, "Musical Map of America." The recording was episode 19, "Musical Story of New Orleans," and featured Armstrong, Jack Teagarden and Earl Hines. For reasons not known, the broadcast was never made and Armstrong was given the acetate discs of the sessions.
Future releases will feature selections of recordings of concerts that date back to the 1950's and 60's, including the 1957 South American Tour, which will be a double CD release. Some of the musicians that performed with Louis on these concerts were Jack Teagarden, Earl Hines, Cozy Cole, Edmond Hall and Trummy Young just to name a few.
Oscar Cohen, who was Louis Armstrong's manager and is the sole and exclusive agent for the Louis Armstrong Educational Foundation, Inc. and the estate of Louis Armstrong said, "Louis Armstrong is the most beloved and iconic artist of our time. His sound, his voice, his love – he forever touches the hearts of people everywhere."
Lisa Cohen, Vice President of Associated Booking Corp. and on the board of directors of Louis Armstrong Educational Foundation, Inc. said, "We are so happy to be working with Dot Time Legends to bring more of Louis Armstrong's beautiful recordings to the world, to hear the music and feel the love".
Dot Time Records believes that these recordings form an important part of the history of jazz and it is our goal to make these recordings available to jazz lovers around the globe. All recordings are painstakingly restored and newly re-mastered with the goal of presenting these recordings in a modern format while striving to keep the original atmosphere of the recordings intact.