The well known concert at le Théâtre des Champs-Élysées in Paris, often denoted the Great Concert, of Charles Mingus' Jazz Workshop during the night between April 18 and 19, 1964 is a jewel in the record collection of many of us. From the original 3-LP America/Musidisc edition to the 2004 remastered issue on CD from Universal France it has always been the prime – if not the ultimate – concert version of the 1964 Charles Mingus Jazz Workshops Tour. But there was a catch to it, a fly in the ointment. It could have been even more wonderful.
Because what was not said on these issues, was that at the very end of the concert – while many audiences were standing up to prepare for getting out of the concert hall in the early morning, at 2.35 a.m. – Mingus and Eric Dolphy reappeared on the stage and performed an eight minute «I can't get started» bass-flute duo. Some of those present described it as a moment of grace. And we knew it. That there was a crucial element missing.
But it has always been claimed – and accepted – that ORTF – today's Radio France – had turned off the recorders and was dismantling their equipment. So this duo performance was irretrievably lost.
The same tune – though shorter – could be heard on the ENJA record Mingus in Europe vol. 1 of the Wuppertal concert of April 26, on the same Jazz Workhop tour. So we all settled for this. But excellent as the Wuppertal performance was, the grace from Paris was lost! Hard as it was to accept.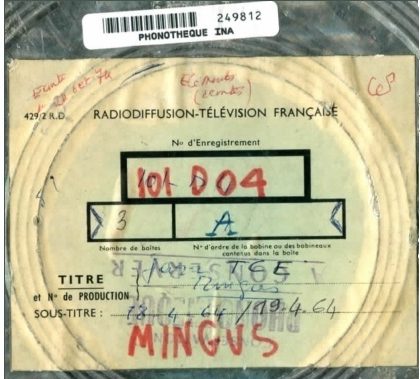 But then – more than fifty years later – there were some good news. Tonight, November 5, 2016, at 18.00 CET Radio France in the series Légendes du Jazz, played a tape that was recently rediscovered in a box labeled 101 D04 at the French National Audiovisual Institute INA.
Radio France writes as follows about this tape of the concert:
«Nous sommes dans la nuit du 18 au 19 avril 1964. Il est 2h35 du matin… Charles Mingus vient de donner, au Théâtre des Champs-Élysées, ce que beaucoup considèrent comme l'un de ses meilleurs concerts. Le public bouleversé s'apprête à quitter la salle quand Mingus réapparaît, avec Eric Dolphy, pour un pur moment de grâce : « I Can't Get Started », en duo contrebasse et flûte.
Huit minutes de musique que la planète jazz pensait perdues à jamais… Mais, contrairement à la légende, les techniciens de l'ORTF n'avaient pas plié bagage, malgré l'heure tardive. Car nous venons de retrouver ce trésor enfoui dans nos archives Ina – Radio France et nous l'avons restauré spécialement afin de pouvoir vous l'offrir dans Les légendes du jazz.»
They also played from the original – and unedited – recordings from the same concert of «Parkeriana» and «Meditations on a pair of wire cutters».
A premier, j'ai une question pour vous: Parlez vous Française?
No? Then return to the front page – immediately! Do not – I repeat do not – scroll down from here!
Oui? Vous etes sure? – Vous parlez et apprendez le Française?
Proceder, s'il vous plait.
Vous etes autorisé d'ecoutez le duo «I Can't Get Started» avec Charles Mingus, contrabass, et Eric Dolphy, flûte, la finale de concert d'Avril 19, 1964,  presente ici aux format mp3 , avec le debit binaire de 192 kbps:
Text: Johan Hauknes