June 29, 2018 the record names «Both Directions at Once – The Lost Album» by John Coltrane, was released. Recorded by what was generally called the John Coltrane Classic Quartet – John Coltrane on tenor and soprano saxophone, McCoy Tyner on piano, Jimmy Garrison on bass, and then, in addition, what could be described as the alter ego of Coltrane during this period, Elvin Jones on drums.
Praise be, with the sound of the Trumpet. Praise be, with the … full band.
For, according to the hiatus, the sales pitch and the attention, it seems that the release was going to turn jazz history upside-down. Not quite so.
The Hype Compared
Throughout the years, I have waited eagerly for many formerly unreleased studio and live recordings of Coltrane. But never have I seen similar attention and arousal for a release of formerly unreleased Coltrane recordings as this spring and summer. And I have been on this game for a long time.
During the spring of 2018 there were huge headlines seemingly everywhere in the international press. This was combined with a hiatus and interest that – at least to some of us – was way beyond what seemed appropriate. It was as if the holy grail of Coltrane had been found.
However, those of us who knew our Coltrane history, knew that this, this was interesting, and we would certainly enjoy it. But it was far from overturning what we already knew. This record would not shift paradigms; it would not revolutionize our understanding of John Coltrane and his music.
But the news of the upcoming record generated an amount of attention that suggested that this was a sine qua non among Coltrane releases during the fifty years since Coltrane died in July 1967. As if this was the most important release ever!
My comparison is not just with the posthumous releases during the years immediately after his death on July 17, 1967. The public press generally neglected the releases «Expressions», «Om» and «Interstellar Space».
Even the release of «Stellar Regions» as late as 1995, was nowhere near anything that could be called public attention. I accept that your reply could be that all of these records were from Coltrane's 'difficult' period, from 1966-67. Records that confirmed the public's general view – even supported by several (conservative) jazz critics—that during this period, Coltrane played anti-jazz.
But even when the fantastic and far more accessible box set «The Complete 1961 Village Vanguard Recordings», and following immediately in its footsteps, «The Classic Quartet – Complete Impulse! Studio Recordings», were released in resp. 1997 and 1998, they did not generate any serious attention outside of the international network of Coltrane liebhabers and the most dogged Coltrane nerds.
Even if the expectations beforehand, for all of these releases, made the mouth water and the eyes tear, of any serious student of classic Coltrane-jazz.
Then, back in 2000-01, it became known that the recording of Coltrane's almost mythical concert on April 23, 1967 at the Olatunji Center of African Culture had been found. And it would be released on the occasion of Coltrane's 75th birthday, September 23, 2001. This was really great news, of a completely different scale.
This was something completely new, even to most of the members of the international Coltrane network. There was only one Coltrane concert surpassing the Olatunji concert in its mythical status. The «Titans of the Tenor» concert, February 19, 1966.
For many of us, the disappointment was huge when it turned out that aural quality of «The Olatunji Concert» made it almost unlistenable.
The public attention was greater – and much more understandable – with the release of a «De Luxe Edition» of «A Love Supreme» (ALS) in 2002. Just as understandable as the release of «The Complete Masters» in 2015. Finally, to be able to hear the versions recorded by the quintet, December 10, 1964, with the young Archie Shepp in the studio was a revelation. As it also was to be able to hear the various steps in the generation of the classic ALS released in 1965.
None of these releases got any attention nowhere close to what we have seen over the last weeks and months over the purported «Lost Album». Even though the previous releases have moved the knowledge of the music of Coltrane at least a few meters, the present one is on a much smaller scale of interest.
However, trust me; the coming winter this record will probably get more Grammys than any of these releases!
It should be said; the DeLuxe edition of this «Lost Album» is pure enjoyment to listen to. Any serious listener to, not just jazz and improvised music, but to good music, should lend their ear to this record.
I'm just frustrated by the completely misdirected hype around the release, a hype that is accompanied by arguments and descriptions from Universal Music and various music journalists, lacking seriousness. More than that, some of the arguments I've seen are completely false. Their only rationale seem to be to sell more records.
You may make mistakes, but do not persist in your errors
Let us start with the obvious fake news in the marketing of the album «Both Directions at Once – The Lost Album». This is not a lost album. It was never, neither for Coltrane, nor for Impulse!, thought of as an album.
The second claim has been that this will expand the knowledge of Coltrane's music. Again, a completely false assertion! The music on this album does not move Coltrane's status, or the understanding of his music, a single nanometre, not even a picometre. OK, it fills out an existing picture, but this is a picture that is very well understood, and well known.
Thirdly, and fourthly: On my versions of the «DeLuxe Version» of «Both Directions at Once» Universal Music manages to make to serious mistakes in just twelve words:
«Newly discovered Studio Recording—DeLuxe Version includes every take from the session»
No, this is not a newly discovered recording, and the DeLuxe Version does not include all takes from the session!
Firstly, the third point: This is not a newly discovered recording. It is not even from a previously unknown studio session. The studio session on the afternoon of March 6, 1963, and a broad outline of its content has been known from Bob Thiele's notebook for more than forty years.
Rightly, the material from this session, as well as several other Impulse! sessions, has been lost, disappeared, and gone down the drains. No masters of this recording has existed in the Impulse! archives after 1975.
Impulse! cannot blame a fire in the vaults for its losses. As when the Atlantic vaults burnt down in 1978, with more than 5000 reel-to-reel tapes, and all documentation lost. In the Impulse! case it seems that the blame is on an overzealous employee of ABC.
When ABC bought Impulse! during the early 1970s, the vaults were moved to the West Coast and Los Angeles. The (over)zealous employee, whether it was a he, or a she, decided that the vaults needed to be cleared to save space. Away with all this old rubbish!
When Coltrane researcher and discographer David Wild got access to the notebooks of Impulse! producer Bob Thiele  during the early 1970s, he found the description of at the time, many unissued Impulse! studio sessions. Among those the session of March 6, 1963.
With producer Michael Cuscuna, Wild visited the archives and vaults of ABC/Impulse! at the end of the 1970s. Together they found that tapes from several sessions in 1962-64 and 1966-67 had disappeared. Among those the session of March 6, 1963.
Fast forward to 2004. The two children of Naima Coltrane – one of them being Saida, known from Coltrane's composition «Syeeda's Long Flute» – presented several things remaining after John Coltrane during the time of his marriage to Naima, to an auction house in New York for a possible sale.
Among the objects were 35 reel-to-reel tapes from studio sessions during 1962-64. The musicologist Barry Kernfeld was asked to go through the tapes and describe their content. His description was published in 2005, in the journal Names & Numbers, at a time when Impulse! already had demanded that the tapes be withdrawn from the auction.
You can read Kernfeld's description of the tapes on his own web site here. Scroll down to the title «John Coltrane in Rudy van Gelder's Studio».
To say that these are newly discovered recordings is really 'faked news', if ever there was any.
Then finally, we get to the fourth point. Even the DeLuxe Version does not include all takes from the March 6 session. From Barry Kernfeld's description, there are at least eight takes not included.
None of the missing takes are, however, complete. They are in the John Coltrane Reference describes as either 'false starts' or 'breakdowns'. Nonetheless, «… every take …» is wrong. A formulation of «… every complete take …» from the record company would be more in accordance with the truth.
Fifthly: And to emphasize the fact that this session has been known for a long time, one of the tunes recorded at this session has been available on record since December 1965! One of the complete takes of the tune «Vilia» from Franz Lehar's operetta Merry Widow was released on the Impulse! record «The Definitive Jazz Scene Volume 3» already in late 1965. It has been reissued several times; as bonus track on the CD releases of the record that was made the next day, on re-releases of «Live at Birdland» and it was included on the box set «The Classic Quartet – Complete Impulse! Studio Recordings».
And then sixthly, the tune that on this release is given the title «One Up, One Down» is presented in an 'alternate' take, described on very occasion as «Take 06», on the cover and on the lable. Barry Kernfeld and Lewis Porter et al. in «The John Coltrane Reference» describes this second complete take of master 11387 as 'take 5'. Nothing in Kernfeld's description – where Lewis Porter et al. takes their information from – suggests a sixth take. Until there is further information that corrects Kernfeld's description, I take this as a miswriting or a misunderstanding.
Now that we have cleared up some of the mistakes and inaccuracies, we can tear off the wrapping and enjoy the record. Calm down, enjoy the solemnity of the moment. Close your eyes and join us in going back to the afternoon of the Wednesday, March 6, 1963.
With eyes closed, we can imagine the contemporary jazz writer Hawk Johnson. In this Gedankenexperiment, he was invited to join the band during the studio session in Rudy van Gelder's church-like studio at Englewood Cliffs, NJ on March 6, 1963. He had eagerly followed Coltrane's residency at Birdland, a residency that started on Thursday February 21, two weeks before today.
Here is his report of the events that unfolded this afternoon and of the jazz scene in New York at the time. The article would have been published in the fictitious newpaper New York Bost a few days later. Read Hawk Johnson's two page article in the Friday March 9[!] edition of the Bost here:
Coltrane still pushing the envelope March 9 1963 NYB

If you have problems reading the article in the box above, you may download it or read it in a new tab here.
This is what it may have looked like
in a contemporary article in a New York newspaper during the first week of March 1963. However, I doubt if the Editor Spruce Janssen of the New York Bost would have accepted the paragraph on the structure of «So What» and Dorian scales. Still today, this is not common knowledge. However, it is very acceptable here at salt peanuts*!
The article might also have ended with a remark that at Birdland the same night, Coltrane was still hesitant to say what today's recordings would be used for. Would it ever be released, or would it remain in the can? Trane was reluctant to answer this question.
Perhaps the fictitious journalist Hawk Johnson noted that John Coltrane took home four reel-to-reel tapes with a mono copy of the session. Bob Thiele could have told him that this was usual after any recording session with the audio magician van Gelder, and that this allowed Coltrane to assess the recordings at home in his own time.
Let us first clear up a misinformation from Mr. Johnson. Let us first say that the «So What»-like tune is of course «Impressions». However, this was not its first studio appearance as claimed by Johnson. The tune was recorded in the van Gelder Studio, almost a year before.
The Coltrane Quartet recorded what became known later in 1963 as «Impressions», on April 12, 1962, as well as during the two-day session of June 19 & 20, 1962. As none of these recordings saw release in Coltrane's lifetime, Johnson's misinformation is excusable. Several other minor inaccuracies in the article could have been mentioned, but they all simply reflect the restricted information Hawk Johnson had access to in March 1963.
In fact, only one of the three previous studio recordings of «Impressions» has, even now in 2018, ever seen release – and none of them while Coltrane was still alive. One recording of «Impressions» from Jun 20, 1962 – also taken from Coltrane's transcription tapes – was included on the DeLuxe Version of the Impulse! album «Coltrane» a few years ago. The other takes are still unreleased.
As with the March 6, 1963 session, the master tapes of the three 1962 sessions are lost. We know about these sessions today, from Bob Thiele's notebooks and because of Coltrane's deal with Bob Thiele to take these mono transcripts of the recording sessions home. Thus, these 1962 sessions were also described in Barry Kernfeld's article from 2005.
Hawk Johnson was right about one suggestion he made, even though it took a bit longer than he expected. During the summer of 1964, Miles Davis recruited Wayne Shorter to his new band. This became the quintet that later became known as Miles Davis' 'Second Great Quintet'! But that is a completely different story.
Fake news!
I have absolutely no idea why Universal Music – UnMusic – has attempted to create the false story that this was a 'lost album'. Furthermore, and more devastating for future Coltrane scholarship, it is very unclear on what basis the canon, the 'original album', was designed. It is far from clear to me why these takes should be considered the album master takes, and the remaining ones the alternate takes.
The UnMusic has for obvious reason released – both on vinyl and on CD – the canonized album, separately, as the holy grail of 'The Lost Coltrane Album'!
And then, in parallel, they release the double CD/LP so-called DeLuxe Version. Here the first disc is the 'canonized' lost album, the second disc includes what should then be considered the alternate takes. By doing so, UnMusic has made key aspects of these recordings inaccessible.
Why should we not get to hear the recording session in the only way and order that is historically 'informed' – as it is termed in musicological and historiographic terms? This was never intended as an album, and Coltrane has never described how this material would have been edited for release. Thus, the order in which the recording was made, is the only order that is historically 'correct'.
Why would UnMusic do such a thing? Obviously I have my own conspiratorial suspicions. In my mind, if I were the producer of the recording in UnMusic, I would present the tapes in the way Coltrane took them home that night, March 6, 1963. In the order they were recorded – in the only historically informed way. But perhaps someone in UnMusic thought more along lines like the following, along business lines?
Some Vice President in UnMusic suggesting: Maybe we can squeeze some more drops out of this material, get a few more fistfuls of dollars – ha, ha – out of it.
If we present it simply as what it is, an unreleased recording session, our sales will only be to these Trane-heads that buy everything by and with Coltrane. We will not sell a single copy more. Remember what happened to the complete «Sun Ship»-sessions! How many copies were sold worldwide?
However, what if we redress the material? – What if we were to release this as a «Lost Album», suggesting that, finally, here is the first release of a 'lost' Coltrane album? And alongside the album we release a DeLuxe Version – as we did with «Ballads DeLuxe», «ALS DeLuxe», and all the others. Then we could make it happen!
Remember the important thing today is to create and tell a story. A story that means something to people. It is irrelevant if it is true or not! We have learned our strategies from the best in the field!
Even more sales would be generated if we launched a targeted social media campaign on top of this to reinforce this discovery! If we do this right, we may get an attention for the release that will boost the sales of the basic single version enormously. Not just sales to the jazz interested general audience, but we can generate lots of new demand from an audience that has never owned a single Coltrane record.
All of it well beyond the sales volumes to those 'crazy' nerds around the world – how many are they worldwide? A couple of thousand at most! These guys will buy the DeLuxe version without us lifting a single finger! They would have done so, irrespective of how much we had put into marketing and hyping! Putting the DeLuxe version out in both LP- and CD-format, we can probably get them to buy both!
OK, so we would have to twist the facts of history, and create a fictitious story around the album, but: So what? Who cares today what is 'correct' or 'true'? Everyone does these things today! Just check with the resident of 1600 Pennsylvania Avenue …
But can we get away with it all? That is the key question …
This is what I imagine could have happened. This is what could have been the thinking on the executive floors of UnMusic. I do not know if it happened, and I have no way of checking it. But it is easy to see that this kind of thinking gives an almost perfect business sense.
As is evident from the facts and views underlying this text, I naturally only relate to «the DeLuxe Version», acknowledging that this album will not move Coltrane research one single micrometre. The single, album version is, until otherwise proven by information from Coltrane himself, a fake, and it should remain so.
But that does not mean that the double album is irrelevant or uninteresting. Quite the contrary!
The purpose of the studio session
The first question that needs to be answered to help us understand what John Coltrane was thinking of these recordings, is to answer what the purpose of the session was.
What had Coltrane planned when he let Bobo Thiele schedule a session on this afternoon? Noone knows. How long in advance the session was planned and scheduled is also an unknown.
There is, however, something we definitely know: The Hartman session the following day had been planned a long time in advance.
From this fact we can generate some alternate hypotheses of the possible intentions of Coltrane for the March 6 session. I will pose six different hypotheses here.
Remuneration: Coltrane used the session to ensure that his colleagues got an adequate remuneration for their work during the last few weeks, that also involved preparing for the Hartman session. Seen from 2018 the contrast to 1963 is huge. Then the record companies actually paid for the studio sessions, and musicians were paid for their work in the studio. Today musicians in the world of improvised music is expected to take all costs and all risks by financing the full master.
Safeguarding: On the other hand it is well known that Coltrane liked to have a number of sessions 'in the can' – as a safeguard for future releases.
Experimentation: The studio sessions were occasions for experimenting with new material. At this stage in his career the distance was great between what he was doing on stage, what he was doing in the studio and what he released. The three studio records of 1963, «Ballads», «Duke Ellington & John Coltrane» and «John Coltrane and Johnny Hartman» remained in the studio – and was far away from anything Coltrane presented on stage.
Warming up: Maybe the session originated as a warm up for the next day's session with Johnny Hartman? The March 7 session was a marathon session with nearly sixty takes in various states.
Rehearsal: Perhaps this was even planned as an exercise session with Johnny Hartman, and that Hartman was supposed to be in the studio? And that on short notice he was hindered? The quartet had a 'training' session for tha Hartman recording about a week earlier. I do not know if there were more.
Album: And lastly, perhaps Coltrane had indeed planned making a consistent and complete album on March 6?
Of these six, I regard the last one the least probable. Only on three occasions under his Impulse! contract up to late 1963, did Coltrane use a single session to produce an immediate album release. And these occasions were for the three albums that came on the partial instigation of Bob Thiele, and not solely on Coltrane's independent aesthetic choice, «Ballads», «Duke Ellington & John Coltrane» and «John Coltrane and Johnny Hartman».
His contract with Impulse! required two albums a year. But this was a requirement that he had fulfilled with a wide margin. «Ballads», «Duke Ellington & John Coltrane» were already released in 1963, and «John Coltrane and Johnny Hartman» would be released during the summer of 1963. In addition the album «Impressions» was released at the same time as the Hartman album.
At the same time Bob Thiele had hours of recordings from the Village Vanguard concerts of November 1961, in addition to several studio sessions from 1962. Hence we can definitely conclude that there was no contractual obligations or pressure for Coltrane to release a new album. From an executive Impulse! perspective, perhaps even quite the opposite!
The simple fact alone that the material remained unreleased throughout 1963-64, while Impulse! released «Impressions» with recordings from Village Vanguard at the same time as the Hartman album, proves also almost beyond any doubt ,that there were no artistic or contractul reasons or motivations for Coltrane to release a new album from the March 6 session.
And I would add, this is confirmed when we finally listen to the material.
When Sonny Rollins in the material is cited as follows: «this is like finding a new room in the Great Pyramid», then this new room in the pyramid of the pharaoh Khufu, would be an almost perfect replica of the room we just left.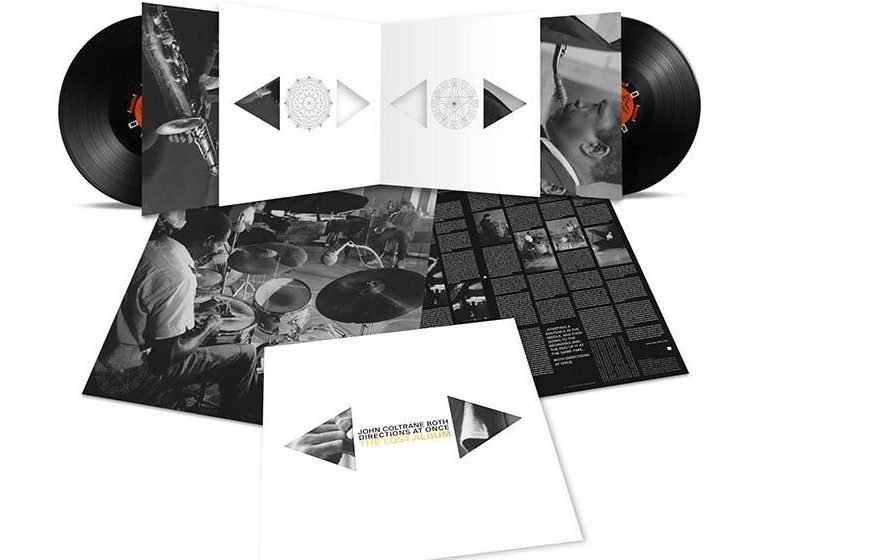 What was recorded?
Let us see what happened in the studio this afternoon, in the order it happened. I list only the complete takes, all reproduced on «Both Directions at Once»:
11382-3 Vilia (Take 3) // ts p b dr
11382-5 Vilia (Take 5) // ss p b dr
11383 Untitled Original 11383 (Take 1) // ss, p, b arco + pizz, dr
11384 Nature Boy // ts b dr
11385-1 Impressions (Take 1) // ts p b dr
11385-2 Impressions (Take 2) // ts p b dr
11385-3 Impressions (Take 3) // ts b dr
11385-4 Impressions (Take 4) // ts b dr
11386-1 Untitled Original 11386 (Take 1) // ss p b dr
11386-2 Untitled Original 11386 (Take 2) // ss p b dr
11386-5 Untitled Original 11386 (Take 5) // ss p b dr
11387-1 One Up, One Down (Take 1) // ts p b dr
11387-5 One Up, One Down (Take 6) // ts p b dr
11388 Slow Blues // ts p b dr
The five-digit code are the internal Impulse!-master codes. The titles are taken from the release. The last piece of information is the instrumentation of each take. Let us take them one by one in the historically informed order.
Vilia
They start the session with Franz Lehár's «Es lebt eine Vilja» from «The Merry Widow». On the record and in Impulse! history this is transcribed as «Vilia». The Viljas are creatures of Slavic mythology, apparently beautiful, but that can be very dangerous, female forest spirits.
In the text of the song the merry widow Hanna Glawari sings, a hunter is lamenting his lost love to a 'vilja'. The viljas can take many forms, many of them scary and frightening, but they can also appear as charming young women, and not the least very beautiful ones. If you treat them nicely they can also be kind to you. But be careful – beware!
We allow us time for a minor fun fact here. One of the classic and most well-known viljas in Slavic myths is in Cyrillic spelling the 'Русалка'—the 'Rósalka'.
The Czech-German TV-classic «Three Nuts for Cinderella» — «Tři oříšky pro Popelku» — is shown every year at Yuletide in many countries – such as Germany, the Czech Republic, Switzerland and Norway. A key figure in this film is a magic owl, an owl that aids Cinderella in overcoming her difficulties.
The owl lives in the attic of the stable where Cinderella's horse Jurasek is. There he watches over three insignificant, dirty and nondescript hazel nuts she has been given as a gift. The owl seems to be the instigator of the transformation of these nuts into clothes, dresses and equipment worthy of a princess. And what is this owl spirit's name? In Czech, Cinderella calls him 'Rozárka'.
'Vilia Take 5', with Coltrane on soprano, we have heard several times. This was released by Impulse! already in December 1965. On the new 'Take 3' he plays tenor and approaches the tune in a different way. As one of the leading 'Coltranologists' in the world — Lewis Porter — states in his recent essay «Considering John Coltrane's 'Lost Album,' From All Directions», it is very probable that Coltrane had just recently got familiar with the tune, learning of it through Johnny Hartman. Hartman had «Vilia» on his repertoire around this time.
But the tune never became the vehicle for Coltrane's further explorations that Hawk Johnson hoped for. Coltrane played, according to the John Coltrane Reference by Lewis Porter et al, «Vilia» only on this occasion. Neither in studio nor in (recorded) concert did he ever play it again.
Then we come to «Untitled Original 11383», There is only one take, and it is complete. «11383» is a 12 bar blues, without any title, hence the denotation. It is played with Coltrane on soprano.
Barry Kernfeld describes it erroneously as being without bass, as played solely by Coltrane, Tyner and Jones. But Jimmy Garrison is definitely part of it, and he plays a wonderful solo – arco, before ending pizzicato. Garrison's solo points towards some of the really great solos he would do live in 1965 with this band.
From Nature Boy to Ascension
Then, here comes this session's shiny, little gem, catalogued bureaucratically as 'master 11384', a tune otherwise known as «Nature Boy». And a most beautiful version of «Nature Boy» it is, recorded on this day!
I must admit at once that I have always had a very weak spot for this 1947 tune, ever since I first heard Nat King Cole's 1948 version the very first time as a teenager. This impression was further strengthened when I heard Johnny Hartman's 1973 presentation of the tune immediately afterwards. And then of course, a bit later John Coltrane's 1965 version.
March 6, 1963 was the very first time John Coltrane tried out this tune, and he was doing it in an intense interaction with the hot and well-trimmed V-12 engine of Elvis Jones, all of it supported by Jimmy Garrison. McCoy Tyner is laying out on this one.
This is one of the few points where I completely disagree with Hawk Johnson – there is nothing unfulfilled with this version of «Nature Boy»! Though I completely agree with him in the assessment of the various sugar-laden cover versions that was released after Nat King Cole's 1948 success with the tune.
I also share his surprise that this tune, in all its simplicity, is able carry an avantgarde, anno 1963,  approach to improvisation. We can actually hear a lot of the potential that lies in Eben Ahbez' pop tune from 1947 in this single take.
Coltrane's version dramatically differs from Cole's version. It is well spiced with a broad spectrum of tastes. All of it, completely without the use of sugar! It is explosive, it is driving, it is right in your face! And this is, not the least, generated by Coltrane's interplay with Elvin Jones.
The big difference between the perspectives of Hawk Johnson and mine, is that in 2018, I have the advantage of listening to the recording with knowledge of what evolved over the next four years. This evolution was, obviously, completely inaccessible to Johnson in 1963.
The March 6, 1963 take of «Nature Boy» is clearly perceived by Coltrane as an experiment – here he is searching for a new, piano-less, percussive sound. But for the time being, this approach to the tune was an isolated attempt.
And almost two years would pass before Coltrane returned to «Nature Boy» again. On February 17 and 18, 1965, the John Coltrane Quartet recorded some of the material for the album «John Coltrane Quartet Plays», released in August that same year. During this session they made several takes of «Nature Boy» – all of them completely different from the 1963 variant.
The versions recorded in 1965 differ not just in the inclusion of McCoy Tyner. In addition Coltrane added another bass. Alongside Jimmy Garrison, Art Davis also played double bass on this two-day session two years later.
There is only one live recording of «Nature Boy» by John Coltrane, from the benefit concert 'New Black Music' at Village Gate, organized by Amiri Baraka, on March 28, 1965. This version was recorded by the Coltrane quartet without any lay outs or additions. This recording was included on the record «New Wave in Jazz», released in November 1965.
Maybe this small preview regarding the recording of «Nature Boy», from the perspective of 1963, suggests that this recording is the most important thing that happens in the van Gelder Studio this afternoon 55 years ago.
The next time Coltrane returned to «Nature Boy» following this first, unreleased attempt, he was about to completely break away from – and cross any envelopes of – the music created by the so-called classic quartet. He was stepping into new territory.
A few months after these 1965 recordings, he recorded the album «Kulu Sé Mama» with the quartet, and then, just two weeks later, he recorded the magnificent opus, «Ascension», with an eleven musicians strong orchestra. And with «Meditations» in the can in November 1965, the classical quartet was history.
Modal Impressions and Untitled Originals
Following this single take of «Nature Boy», John Coltrane turned to his modal platform that he had created from the few lines he picked out of the interlude of Morton Gould's «Pavanne», the second movement of Gould's «American Symphonette no. 2» from 1938-39.
Coltrane had at this time played – and played around – this theme since 1960. But all along it seems it had never been assigned any name. It took the release of «Impressions», sometime during July 1963 according to the John Coltrane Reference, to name it.
The album «Impressions» was released with a reproduction of the tune taken from the live performance of November 3, 1961 at Village Vanguard. On this 1963 album the modal piece was finally assigned with the name that also became the name of the album.
There seem to be no obvious answer to the question of why it got this name. But with its A-section from Morton Gould's «Pavanne», and its B-section, according to Lewis Porter, from one of the key works of Maurice Ravel, it seems to be an understandable reference to Impressionism and to its impact on American classical music. It may still be an unanswered question whether this title was set by John Coltrane himself, or by someone else. But with this 1963 release, the name was at least approved by John Coltrane.
Stanley Crouch claims in his «Considering Genius» that both Coltrane's «Impressions» and Miles Davis' «So What» have their origin in their listening to the 1955 arrangement and recording by Ahmad Jamal of Morton Gould's «Pavanne». If this is true, Miles Davis would have had his inspiration in the vamp on which Jamal's arrangement is built, while Coltrane would have picked a melodic line from Gould's work and Jamal's performance of it.
This purported common origin of the two in Ahmad Jamal's work, would of course have thrown some immediate light on the confusion about the title during the years of 1961-1963. Was what became known as «Impressions» a compositions by itself, or was it just another variant version of Miles Davis' «So What»?
But when I read Stanley Crouch's analysis of Ahmad Jamal's version of Morton Gould's «Pavanne», I am in fact quite uncertain whether Crouch has actually heard Gould's original movement, or if he has even read the score of the second movement of the «American Symphonette no. 2».
And just before you charge me of being wrong, the answer is yes, Morton Gould's own spelling is «Pavanne», even though it is, in musicological terms, supposed to be a pavane. However, the double-N is actually Gould's own invention.
It has been said that Gould chose this spelling to avoid that the American public pronounced the name of the movement as 'pa:vein'. The double-N would ensure that the immediate American English pronunciation would be 'pa:vanni', much closer to the musicological pronunciation 'pa:vanè'.
On the record we are served four complete takes of «Impressions», first two takes with the complete quartet, then two takes with the piano-less trio of Coltrane, Garrison and Jones. Note the shift in tempo between these two main versions.
One remarkable aspect of this session is how Coltrane experiments during it. Tempos, instrumentation, etc. Everything suggests that this is primarily a testing of ideas, rather than creating final and releasable takes and versions.
«Untitled Original 11386» – an AABA-structured tune in F Dorian — is presented here in three complete takes, with Coltrane on soprano saxophone. We cannot provide any structural analysis of the development of this composition as we do not have access to the complete studio tape. Nevertheless, the variations in the three complete takes we get to listen to here, emphasises the experimental character of the whole session.
According to his essay mentioned above, Lewis Porter has access to the complete session recording. He suggests that «11386» was not written by Coltrane. McCoy Tyner – who himself is one possible candidate composers – does not remember who wrote the piece, or even if he did it himself.
In listening to the complete tape, Porter upholds that there is a fifth person present in the studio. There are some spoken comments on the original tapes, concerning this composition, in a voice that cannot be linked to any of the musicians present that day. Porter hypothesizes that the voice might belong to the actual composer of the tune. As these comments are not reproduced on the album, I cannot check these statements.
The next tune, master no. 11387, is given the title «One Up, One Down» on the album. This must not be confused with the 1965-tune «One Down, One Up», the tune that gave name to the album, released in 2005, with radio broadcasts from Half Note in March and April 1965.
Master 11387 is a different tune. Apart from this studio recording, it is only known from one of Boris Rose's homemade recordings of New York radio broadcasts. The WADO 1280-AM broadcast from Birdland, on the night into Saturday February 23, included an almost 15 minutes version of the same tune as master no. 11387. The John Coltrane Reference notes (p. 672) that the title «One Up, One Down» of this composition «… does not appear to be Coltrane's title, which is unknown».
The Boris Rose recording saw release later on the Ozone label, one of many Boris Rose homemade labels. On the issue Ozone 21 «John Coltrane», the tune is denoted as «One Up & One Down». An immediate hypothesis is that the title was invented by Boris Rose when he was preparing the publication of Ozone 21.
Whatever the case may be, this is a composition that points towards what would come a couple of years down the road, i.e. Coltrane post-ALS.
At the end of the recording session, they made 11388, on the album presented with the title «Slow Blues» — a title that is definitely not Coltrane's. Rudy van Gelder announces it from the booth as «11388 original blues, slow blues, take 1».
Close your eyes and enjoy Coltrane's tenor solo on this one. And note that McCoy Tyner lays out on most of this one.
Conclusion
For myself, I am inclined to believe that this studio session was scheduled with Bob Thiele on short notice, and that Coltrane's prime intention was experimentation. Especially I am intrigued by Coltrane's many attempts at experimenting with just a trio set up, of bass, drums and himself. I imagine this was one of the key things Coltrane wanted to check out this day.
He had no plans of releasing this material, but he was – as he always was – attuned to any opportunity to develop himself and his music further. I have never met or otherwise gotten to know of any artist that has been as extremely focussed on training, experimentation and development as John Coltrane evidently was. A wide range of biographical publications attest to his almost monomaniac training regime.
In total, this is a double album it is worth lending your ear to, whether you are deeply involved with John Coltrane's discography and music, an average listener to any good music, or if you are a curious listener searching for good, quality music.
But even though there is some wonderful playing on the two records, the album will always be secondary to the artistic expressions of those albums John Coltrane prepared and approved for release himself.
So lend Coltrane an ear – or preferably two – and listen to where he and his quartet were a Wednesday in early March, 1963. The you can reflect on the fact that just over four years later, July 17, 1967, he died.
Then listen to «Expressions» and «Interstellar Space», and consider how many leagues of musical terrain Coltrane would cover during the following four years. Starting on this day, March 6, 1963!
Tekst: Johan Hauknes (2018)/Hawk Johnson (1963)
Photo: Jim Marshall, John Coltrane Quartet in Rudy van Gelder's Englewood Cliffs studio 1962 — Ballads session (main) / Impulse! – Universal Music (illustration)
[amazon_link asins='B07D51TY57′ template='salt-peanuts-amazon-link-EN' store='salt-peanuts-21′ marketplace='UK' link_id='d4889517-a962-11e8-b649-9b0631a7d63d']