COPENHAGEN JAZZ FESTIVAL, 8. – 9. – 10. JULI 2019: salt-peanuts* to medarbeidere under Copenhagen Jazz Festival jobber i litt forskjellig tempo. Vi hadde tidligere en anmeldelse av nJoe Armon-Jones' konsert i Loppen på Christiania. Men der var også vår italienske medarbeider Nicola Samprini, og han ville også gjerne si noe om den konserten. Han var også ute på konsertserien Jazz by the Sea ute på Islands Brygge den 9., og hanms rapport derfra tar vi også med her, før våre inntrykk fra ønsdagen kommer til slutt.
Så her følger Nicolas rapporter fra sine to seneste opplevelser på Copenhagen Jazz Festival
Joe Armon-Jones
Joe Armon-Jones began playing piano at the age of 7. Today he is 26.
His debut album «Starting Today» was released on May 2018 (Brownswood Recordings), and it is one of the defining records in a historic year for UK jazz. The record is a magnetic mix of sophisticated improvisations, solid grooves and rhythmic intensity, and its live versions are surely bringing different arrengements, structures and a whole new experience compared to listening to Joe's recordings. He was invited to Copenhagen for the 2019's edition of the Jazz Festival and being included into the «Future Sound of Jazz» theme for scheduled concerts at Loppen, (the renowned music club in the heart of Christiania).
At 10:07 we were standing at the stage right in front of the keyboard set-up, leaning our legs on the sub speakers and waiting for the band to enter the room. Asheber, the Jamaican singer touring with Armon-Jones and «Afrikan Revolution» bandleader was approaching the stage, and right after him Joe was kindly asking me to get through in order to reach his keys.
I instinctively told him «good luck» patting him and by one «giant step» he climbed over the speaker onto the stage, sat on the stool just one and a half meter away from us.
The hype around London's jazz scene has been loud in the last years, since a vibrant phenomenology has pushed through a bunch of young musicians, whose audiences reflect their multiculturalism as much as their wide-ranging tastes. Yet such music scenes often fragment into side projects and subgenres; this is as much Afrobeat, kuduro, Jazz, Funk and Dub as it is Bop.
Perhaps we shouldn't even be calling it jazz anymore, but whatever you want to call this music, it embodies the best of London's creativeness – the chaotic friction of multiculturalism and the abundant talent that springs from it. This fluidity of genre is nowhere better represented than by the pianist Joe Armon-Jones. Like many of UK's bright burning jazz movement, he is an alumni of both Tomorrow's Warriors and Trinity Laban Conservatoire. He has made the keys his home, accepting influences from the classical world, and from the urban jungle.
Armon-Jones spends the night hunched over his instruments; his shoulder-length blonde hair, his hands dancing through the myriad changes, his smoke from the lungs.
As co-founder of the brilliant Ezra Collective, people in the crowd appear already familiar with this band and be well aware of Joe's skills. James Mollison (from Ezra Collective as well) is on the stage playing his tenor sax, and their musical complicity is sturdy and clear.
There's a tangible thread which runs through the whole set: from dub – a lot of dub – to hip hop, a wide spectrum of sounds is refracted through a shared, dedicated approach to playing.
Throughout, Armon-Jones conveyed a freshness and honesty that typifies the current new generation scene. Opening with a solid dub suite, this established the laid-back nature of his approach and allowed bassist Mutale Chashi (part of the amazing band Kokoroko) to lock into a groove that shook the audience's diaphragm for some minutes.
The horns accents dictated the melodies before any musician on the stage performed an extraordinary solo that combined fast lines, rhythmic stabs and powerful soul vibes. A couple of times Joe's solos faded in and out the pieces' structures to intensify the complex patterns he had already laid down, resulting in a mesmerizing organ lines and echoing piano stylings. He played then a brand new unpublished piece, and later an upcoming track which will be included into his new release out next September.
For the final tune of the set, joined once again by Asheber, Armon-Jones let rip with a catchy solo on the title track of the album «Starting Today», keeping it going and grooving as the drums and bass are allowed to set up the bars before adding stabbing Rhodes chords.
So, a prodigious, head-turning keys player with insane chops on the piano, and the like-minded, equally talented bandmates made for some of the most exciting live music I heard this year.
Thanks guys, you left a smily satisfied audience cueing for grabbing a vinyl copy of Joe's album at Loppen's bar, hope to see you soon… again!
Makaya McCraven – July the 9th – Jazz by the Sea
Born in Paris, to musician parents Stephen McCraven and the Hungarian folk singer Ágnes Zsigmondi, Makaya McCraven later moved with his family to Amherst, Massachusetts.
Makaya says that growing up with professional musicians as parents gave him a realistic perspective on just how hard it is to make a living in this industry, but also made it nearly impossible for him to consider doing anything else.
Makaya McCraven, is 36 years old and he is based in Chicago. Jazz drummer, composer and producer, in many ways we can affirm global jazz culture is the story of McCraven's life. For the forth evening in a row, the Copenhagen Jazz Festival's open-air-venue hosted a concert within the «Jazz by the Sea» shows; Makaya McCraven arrived punctually at 20:00 on the sunny stage, and introduced himself right before starting shaking his sticks smoothly on the drum-set.
He is usually making waves crossing patterns and techniques from hip-hop, cumbia, funk, and strains of electronic music to build a bright path for the future of jazz while honoring its legacy.
Collaboration and spontaneity are pillars of his cause, as demonstrated on his latest «Universal Beings» double LP (released on International Anthem in October 2018) featuring improvised performances recorded live or in-studio with four different ensembles, in four different cities:
New York, Los Angeles, London and Chicago.
«The story for me is that each of these places have really cool local scenes that cultivate their own sound and their own thing – Makaya said – yet we're part of a bigger movement that's getting a lot of traction right now, and that's super exciting. I wanted to shine a light on that, but I'm also trying to tell a larger story about how we're all part of an international, global art scene.»
Then McCraven concludes: «In this particular moment, there's an interesting movement in jazz where it's being redefined by young players and new audiences worldwide.»
When the founders of International Anthem suggested he host a weekly improvised gig and record all of it, he realized that all that raw tape could easily become source material. McCraven started editing down and overdubbing the live sessions, marrying jazz's spontaneity and electronic music's polish. Universal Beings was born, and its message of unity, peace and power appeared to be in full force as people of all ages, races and walks of life bobbed together in a mesmerized trance.
McCraven's powers transformed eclectic musicianship and scattered sounds into tightly sculpted tracks entirely unique to the space they're created in.
Back to the Copenhagen Jazz Festival's stage, McCraven is playing a clean and unabating sequence of standard jazz renderings of Universal Beings tracks.
The hip hop feel is not there, the beatmakers' editing ideas are not there, the beauty of the innovation of latest McCraven's double LP, is not there. He performed along with amazing musicians, a tasty version of his well known tunes in a very classic-jazz approach.
Listening to Madlib and Flying Lotus, McCraven saw the enthusiasm that young hip-hop fans had for what he calls «challenging music» or even better, «socially challenging, not technically challenging.» But still, is the live so careless of the album's bullet points?
Enjoyable and entertaining for sure, but the record (to which I have really adderssed many hours of listening in the last year), has some temper because of the tracks' raw feel in the structures and in the arrengements. What they performed was mostly improvised, but with Mr. McCraven subtly steering, listeners had room to get comfortable, to fall into the music effortlessly .
«You're supposed to know that I'm doing it — the editing is part of the narrative,» he says. «It's a recontextualization of avant-garde concepts in jazz music, making them more digestible
and palatable to a broader amount of people.»
The album reflects the mindset of a teenager bedroom producer, Universal Beings is the example of how influenced by other sounds is the daily jazz producers' scene.
Makaya McCraven's live concert did not bring to Copenhagen those influences and mindset.
It was a Jazz thing, a pleasant evening of music, experiencing an agreeable 80 minutes concert.
Europeisk modernisme, eller …
I Skuespilhusets feyer onsdag klokiken 15:00, var det duket for et av de nye, og betydningsfulle europeiske bandene, i følge ferstivalprogrammet. Da skulle vi, for første gang, få møte Philipp Gropper's PHILM, som for øvrig fikk hederlig omtale i Eyal Hareuvenis anmeldelse på salt-peanuts.eu for noen dager siden.
Jeg hadde ikke hørt hverken saksofonisten Gropper eller hans medmusikanter, Elias Stemeseder (p, synth), Robert Landfermann (b), Oliver Steidle (dr) tidligere, men stilte med relativt åpent sinn.
Og det var ingen grunn til å feste seg nevne verdig med kvartetten. For her fikk vi servert typisk, europeisk jazz i den «nye» generasjonen, som for meg virker svært innadvent og uten at de brydde seg nevne verdig om den nesten fullsatte salen. De gjorde ett langt sett, hvor melodiene og improvisasjonene ikke var altfor spennende, og Gropper selv imponerte på ingen måte med nyskapende tenorsaksofonspill.
I Zeebergs hule hånd
Pianisten og keyboardisten Jeppe Zeeberg har vi hørt en rekke ganger, både med kollektivet Horse Orchestra og solo. Han er en av de mest kreative og morsomme pianistene jeg har hørt på mange år, og hans samarbeid med Hose Orchestra og solo er alltid svært fornøyelige opplevelser.
Nå var han i Dansk Arkitektmuseums nye designhus, BLOX, som kalles «Legohuset» i dagligtale i København, og som ligger fint plassert ute ved kanalene med utsikt mot Islands Brygge og Christianshavn.
I bandet med det lange navnet Jeppe Zeeberg & the Absolute Pinnacle of Human Achievement møter vi han selv på keyboards, svenske Henrik Olsson på gitar, Casper Nyvang Rask på bass og Anders Vestergaard på trommer. Dette er Zeebergs seneste satsingsområde, og det ligger mye arbeid bak den konserten vi fikk servert i BLOX.
Og musikken tok Zeebergs ideer fra soloprosjektet og Horse Orchestra enda videre. Hvis man kan tenke seg Frank Zappa sette sammen en jazzkvartett med elektriske instrumenter og la de fylle rommet med all verdens Zappa-ideer, samtidig som det ytterst særpregede spillet til Zeeberg får boltre seg fritt, så er man litt i nærheten av det vi fikk høre denne ettermiddagen.
I bandet spiller gitaristen Henrik Olsson en viktig rolle. Sammen med Zeeberg, er det han som driver musikken framover, med taktskifter, stopp, energi, rocka tilnærminger og morsomme vendinger, mog selv i et kort parti hvor han spilte klassisk gitar i en nesten spansk tradisjon, var det fascinerende.
Og å spille denne type musikk, med alle taktskifter osv. Krever et solid komp. Og med Nyvang Rask og Vestergaard, har Zeeberg funnet de rette samarbeidspartnere. Og i front, med komplett kontroll over begivenhetene, står "lykketrollet" Zeeberg og briljerer stort med el.pianoet. Han er en strålende pianist, som teknisk kan måle seg med de beste internasjonalt, og hans ideer er helt hans egne, hvor vi i ene øyeblikket befinner oss i Art Tatum-land, mens vi i neste er langt inne i freejazzen. Og derimellom legger han inn solide rockeriff, countryelementer, sirkusmelodier og fritt improviserte strekk, og han mister aldri kontrollen på hva som foregår. Strålende! Og vi gleder oss til platen med dette prosjektet er på gaten.
Kvinnelig vokal i stjerneklassen
Vi valgte å bli i BLOX en stund til. For etter Zeebergs prosjekt, fikk vi møte vokalkvintetten IKI. En kvartett som har holdt på en del år, og som hele tiden fornyer den fritt improviserte vokalmusikken. Kvintetten består av vokalister som har alle ti føttene godt plassert i den frittimproviserte musikken. Besetningen har endret seg noe under veis de senere årene, men i kvintetten denne ettermiddagen, fant vi Kamilla Kovacs, Johanna Sulkonen, Anne Mose, Guro Tveitnes og Randi Pontoppidan.
Musikken er litt som når man hører noen av Pontoppidans prosjekter, man starter med en idé og utvikler den videre i mange retninger, legger på litt perkusjon og elektronikk, men aldri slik at det tar oppmerksomheten fra det vokale, og de fem vokalistene tar med seg ideene og utvikler dem til ytterst fascinerende musikk. En god time i et flott lokale med god lyd, noe man aldri får en garanti for i slike lokaler, som er beregnet for helt andre ting enn vokalkonserter.
Kjærgaard special
Den danske pianisten Søren Kjærgaard, er en musiker vi har fulgt en stund. For ikke lenge siden kom han med to soloplater, «Concrescence» og «Live At Freedon Festival», som begge fikk strålende anmeldelser på salt-peanuts.eu. Til kveldens konsert på 5e i Kødbyen, hvor plateselskapet ILK rår grunnen denne uka, hadde han satt sammen et spesilprosjekt, sammen med bassisten Jonas Westergaard, elektronikamusikeren Elias Stemeseder og, ikke minst, vokalisten Marcella Lucacelli.
Westergaard er en dansk bassist som holder til i Berlin, og vi treffer han stort sett hver gang det er Vinterjazz eller Copenhagen Jazz Festival i byen. Han har en lang og innholdsrik CV bak seg, og regnes som en av de ledende bassister i Danmark (og dem er det mange av!). Elias Stemeseder kommer opprinnelig fa Salzburg i Østerrike, og har bodd en periode i Berlin, før han i 2015 flyttet til New York, Der har han spilt med blant andre John Zorn's Bagatelles, Greg Cohen Quintet, Philip Gropper's PHILM, som vi hørte tidligere i dag, Jim Black's «Malamute» med flere. Marcella Lucacelli blir regnet som en av de mest innovative vokalister innenfor sin generasjon. Hun er født i Brasil og er oppvokst i Danmark, hvor hun blant annet er med i Danish National Vocal Ensemble.
Og sammen ble dette akkurat den dynamittkonserten vi hadde håpet. Kjærgaard med sine «stokker», hvor den ene dekker alle de sorte tangentene, og den andre, litt lengre, dekker alle de hvite. På denne måten kan han legge an alle de sorte eller hvite tangentene samtidig, noe som gir en kraftig, musikalsk effekt. I tillegg er han en strålende pianist og improvisator, som, i denne fritt improviserende samenhengen, fungerte svært overbevisende. Westergaard er en bassist som kan gå inn i nesten hvilken som helst sammenheng, o0g levere flott og spennende bass-spill, og Stemeseder ga ett helt annet, og mye bedre inntrykk her, enn i salskap med Groppers band.
Og i front var Marcella Lucacelli den reneste «duracell-kaninen». Hun var over alt hele tiden, med hylig og skriking, hvisking og ordløs sang, som var hun den kvinnelige utgaven av den britiske vokalisten Phil Minton. Jeg spurte henne setter konserten om hun hadde et nært forhold ti Minton, og hun kunne fortelle at hun ikke kjente han, men at han var et av hennes store forbilder. Og det var lett å høre i hennes vokale krumspring. Som lytter ble man kraftig fascinert av alt som kom ut av munnen hennes, og kun i korte øyeblikk var hun såpass stille at det gikk an å få tatt et bilde.
Men ikke på noe tidspunkt under konserten var dette utenfor Kjærgaards kontroll (i alle fall virket det sånn). Han styrte det hele med kjærlig hånd, og de fire ga oss en vanvittig energiinnsprøytning i løpet av den drøye timen de holdt det gående. Og akkurat nok til at man kunne sykle hjem med positive inspirasjoner.
Tekst på engelsk: Nicola Semprini
Foto Makaya McCraven: Nicola Semprini
Norsk tekst og andre foto: Jan Granlie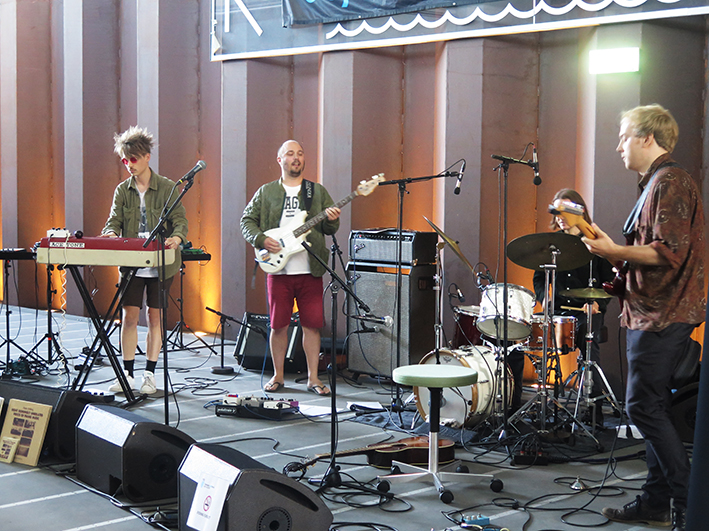 Jeppe Zeeberg & the Absolute Pinnacle of Human Achievement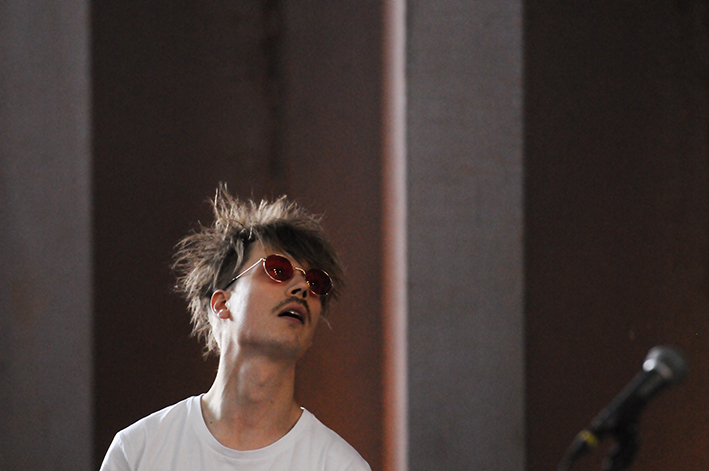 Jeppe Zeeberg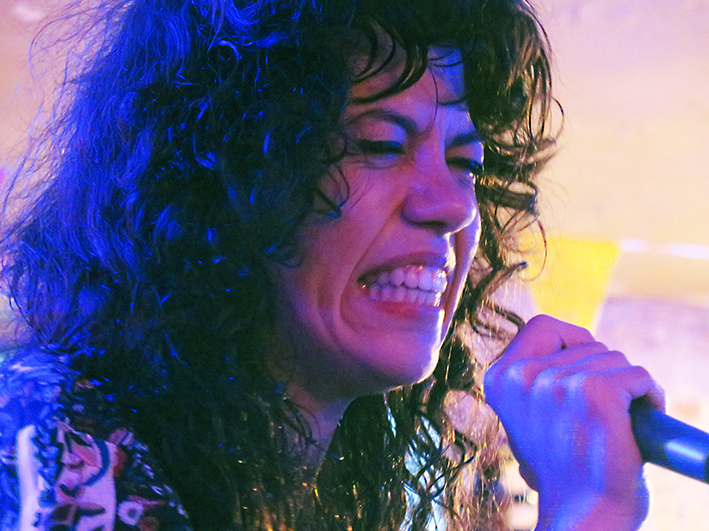 Marcella Lucacelli i Søren Kjærgaard Special