All of us, whatever age, have grown up, listening to the wonderful Swedish pianist Jan Johansson! And we will never forget him.
For those of us being Scandinavians and born before 1965, Jan Johansson defined from the very first moment we heard him what modern jazz was about!
For anyone younger than this, the answer to the challenge he posed of integrating Scandinavian folk music and jazz, is so obvious you wouldn't even understand the question: How can the Anno 1960 new American tradition of improvised jazz be integrated with European traditional music?
Whatever our age, 2014 is the fiftieth anniversary of the revolutionary record by Jan Johansson, «Jazz på Svenska«. This anniversary is worth noting not the least because this record made the whole question of this integration superfluous, it showed the definite way of this integration.
On this breakthrough record, «Jazz på svenska«, Jan Johansson and Georg Riedel integrated medieval Swedish folk tunes with a modern improvisational framework. This key bridge between old music and a modern esthetique was recorded 50 years ago. With this record Jan Johansson was the key eye, showing all of us Scandinavian youngsters what modern jazz was about! Just as Miles Davis had done five years earlier with «Kind of Blue«. This was the obvious comparison for us.
Why was this so? How could this happen? What was it about Jan Johansson, this young engineer from Gothenburg, just twenty years older than ourselves, that gave him this gift of opening up a completely new musical landscape?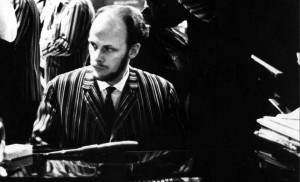 For most of us youngsters, Jan Johansson was in the same category as Pink Floyd and Beatles post-«Sgt. Pepper» – and Miles' «Kind of Blue» and Trane's  «A Love Supreme«!.  Something standing apart! Different! Someone defining new music!
We knew by this time that he had been the chosen pianist of Stan Getz during his European JATP tour of 1960. If not by any other things than his capability to conform with the bop-derived language of the time! But already then we knew that JJ had such a wider promise than this. A wonderful new talent was showing completely new ways!
So here was this young engineer cum pianist that knew his hard bop repertoire, but that evidently also managed to turn this repertoire upside-down and create a completely new music. Still remaining within an obvious Swedish tradition, while at the same time conforming to the contemporary requirements of jazz music.
Emerging as he was, from under the wings of Arne Domnerus and others, he did not, however, just recapitulate the language of his forefathers. He created a new foundation that completely altered the face of modern jazz. Early on he showed an interest in using Swedish folk traditions far beyond just replaying «barn jazz» and «Ack Värmeland du sköna» in an American jazz tradition.
During the late 1950s and early 1960s, the global face of jazz was rapidly changing. Evolving from an American tradition, there emerged two new and distinct European traditions of modern jazz. Firstly, there was a continental fusion of improvisational music and continental contemporary music. Secondly there emerged an integration of north-European folk music with American ideas of an improvisational framework.
The latter tradition found one of its prime foundations in the integration of Swedish folk traditions with American-based improvisational music. It grew out of an integration of Swedish folk music into the «cool» tradition of western US jazz, as expressed by f.i. Lars Gullin .
We all know how «Dear Old Stockholm» emerged during Getz' stay in Sweden in the very early 1950s. This became a new standard. This first influence was, however, still basically founded in an American tradition.
From this basis there emerged a completely new style of Nordic jazz, far beyond the «cool» and «bop» foundations. The new music became the breeding ground of what turned into the great new sound of Nordic jazz during the next five decades. Call it arctic sound or whatever, this was the starting point. The music of Jan Johansson was at the forefront of this.
Anno 2014, this is the time to look back at and appreciate the accomplishments of these previous five decades. And obviously, not the least the accomplishments of Jan Johansson. He was a key in opening up our eyes for what evolved during these decades.
His landmark 1964 record «Jazz på svenska» became an instantaneous revolution. For many of us post-1968-ers the tune «Visa från Utanmyra» became the signal tune of the revolution this record accomplished. We could sing it by heart. Together with «Emigrant-visan«.
Later we also learned all the later blues tunes from Jan Johansson's hands by heart, always recognizing their Swedish basis, as «Blues in Octaves«, «Blues in Söderhamn«, «Blues in the Fog«, etc.
Jan Johansson also turned to Russian and Hungarian folk traditions («Jazz på ryska«, «Jazz på ungerska«) to show his ways into modern jazz. All along key compatriots in these endeavours were Georg Riedel and Egil Johansen. This trio integration was just as important to Jan Johansson as the Village Vanguard players, Scott LaFaro and Paul Motian, were to Bill Evans. As the Latin expression goes, there is nothing without it – sine qua non!
Jan Johansson's ultimate masterpiece, providing the wonderful conclusion of his integration of a modern jazz tradition and Swedish folk music, is of course the triple-LP, «Musik genom fyra sekler«, or «Music of four centuries«, completed shortly before his untimely death in a car accident in November 1968.
Unfortunately his legacy and expression of his musical ideas are limited to these records and a few more. Luckily all of the recordings are still available on Heptagon Records, established and run by JJ's two sons Per Anders and Jens Johansson.
Just the same as modern trumpet playing in jazz is unthinkable without reference to Clifford Brown, Scandinavian piano playing in almost any jazz tradition is unthinkable without referring to Jan Johansson.
But it was «Jazz på svenska» that for us youngsters was the first masterpiece and door-opener into a new world. With this, we could even forgive him for getting fed up with being put in this box of «Swedish folk music goes jazz». As we became older, and hopefully wiser, we even came to appreciate this position of his. Irrespective of genre, he was a major modern innovator of jazz – period!
After the celebratory listening to «Jazz på svenska«, take the time to listen to his live 1967 recording of the tune «Staden mellan broarna» («The city between the bridges«) from the post-humously issued LP «300.000«!
Johan Hauknes