Viennese guitarist Martin Philadelphy ranks among Austria's most multifaceted artists. He is a jazz guitarist but more than just a guitarist. He free-improvises and experiments with sounds and textures, sings and raps, collaborates with Danish and American musicians, and composes music for theater, dance companies and films, and has his own independent label, Delphy Entertainment Rekords, that released so far more than thirty albums.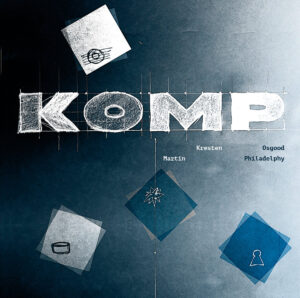 KRESTEN OSGOOD / MARTIN PHILADELPY
«KOMP»
DELPHY, DER 036
Danish drummer Kresten Osgood and Philadelphy are soulmates who spent enough time on the road and in-studio on both sides of the Atlantic. Both refuse to surrender to any genre or style conventions, and both Osgood and Philadelpy believe in free improvisation, unpredictable and uncompromising improvisations that can – and will – reference everything from metal to extra-terrestrial sounds, as long as they are having fun. «KOMP» is already the third album of this duo, following «Omphalos» (ILK Music, 2016) and «Heavy Breakfast» (Delphy, 2017, reviewed below). «KOMP» was recorded in Copenhagen in June 2019, spiced with some improvisation from a past recording of bassist Trevor Dunn, and with guest artists – Danish rapper Carl Knast and Norwegian trumpeter Håkon Guttormsen.
The 15 pieces of «KOMP» offer Osgood and Philadelphy enough opportunities to cover all bases, with a natural and joyful flow. The music shape-shifts constantly and experiments organically with elements of free jazz, blues, post-punk, abstract and sometimes free-form ambient textures, heavy funk, spoken word and gangsta-rap Danish style to imaginary and exotic folk songs. Anything goes and played with an immediate, almost telepathic interplay.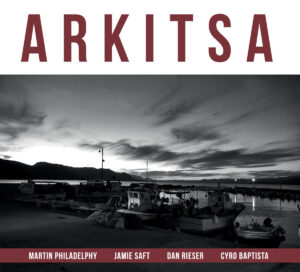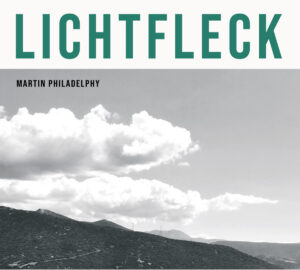 MARTIN PHILADELPHY
«Arkista» + «Lichtfleck»
THREE SAINTS RECORDS
THS CD, 190101, / DELPHY, DER 034
Arkitsa is a smаll Greek village by thе sea, near thе highway from Athens tо Lаrissa and Thessаlοniki. Arkista is also the home base of Viennese lyricist Thomas Nyx Scherhammer, who collaborated with Philadelpy on these two albums. Philadelpy and Scherhammer spent enough time together in Arkista and benefited from the pastoral solitude and loneliness. Philadelphy returned from Arkista with 18 philosophical texts -mostly in German and sung in the Viennese dialect – and matched these laid-back stories with two esteemed comrades from the New York downtown scene (and of John Zorn's circle) – keyboards wizard Jamie Saft (who recorded, mixed and co-produced the albums with Philadelphy) and master percussionist Cyro Baptista plus drummer Dan Dieser and bassist Jesse Murphy. The albums were recorded in June 2018 and March 2019 in New York and both offer photos of the inviting Arkista taken by Philadelphy.
Philadelphy plays the electric guitar and sings-talks with his smoky voice and his unassuming delivery with a surprising sense of relaxed but theatrical drama, that is more pronounced on «Lichtfleck». His band sounds like a lazy yet inspired Mediterranean version of Marc Ribot y Los Cubanos Postizos. Philadelphey's interplay with Saft and Baptista is magical, and the musical ideas of these gifted musicians are simply brilliant, rooted in untimely, vintage musical colors of rhythm n' blues, jazz and heavy funk. Their music alchemy turns the German texts into sensual and seductive recitations, a rare thing for one that is not a native speaker. My favorite songs are the enigmatic «Der Grottenmolch» in «Arkista» and the bluesy «Erkenntnis in English» in «Lichtfleck» which sums the essence of this project: «As long as darkness fights the light / your ignorance limits your sight / we are like tiny ripples in the sea / we desperately search our source but we can't see».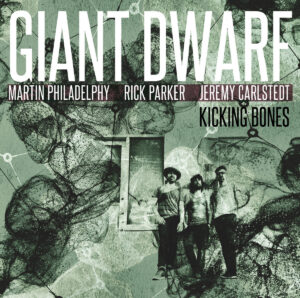 GIANT DWARF
«Kicking Bones»
CARLSTEADY MUSIC, CS002
Giant Dwarf's third album «Kicking Bones» matches intense free jazz à la Sonny Sharrock with ragged indie-rock, spiced with free improvisation, prog-rock, stoner rock, freak punk and textured ambient work. Giant Dwarf is the duo of Philadelphy with drummer Jeremy Carlstedt, a long-time protege of master drummer Chico Hamilton, and both host on «Kicking Bones» trombonist and synth player Rick Parker, who has performed with the Mingus Big Band, Muhal Richard Abrams Orchestra, Tim Berne, Lukas Ligeti and Wu-Tang Clan. The album was recorded in New York in October 2017.
The atmosphere here is urgent, inventive and often quite brutal, and like «KOMP», covers all possible – and also some impossible – bases. Giant Dwarf acts as a sound lab that likes to derail itself from any conventional routes and find itself in uncharted, and sometimes even volatile sonic sceneries, but shows its gentle and emotional side on «Water Window». The trio declares that it «addresses one of the biggest problems with indie music — lack of playing ability», but the obvious virtuoso and technical qualities of the trio are harnessed for the benefit of the layered and detailed, evocative psychedelic-kaleidoscopic textures.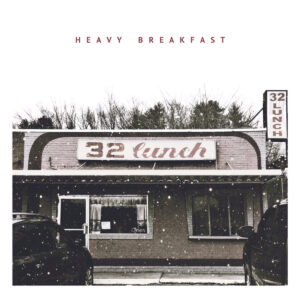 PHILADELPHY / SAFT / ABBS / OSGOOD
«Heavy Breakfast»
DELPHY, DER 032
«Heavy Breakfast» documents Philadelphy's first collaboration with Saft, his continuous work with Osgood, and the quartet is rounded by double bass player Tom Abbs to the quartet. The album was recorded in March 2015, and its atmosphere is much more introspective but adventurous at the same time and open to sonic searches than «Arkista» or «Lichtfleck», where Saft played a major role in defining their leisured, groove-based spirit. The pieces are free improvised and often opt for spacious, unhurried dynamics, as Philadelphy and Saft take the quartet to some eccentric flights, while Osgood and Abbs attempt to anchor it with loose structures. But as the recording session progresses this quartet finds its right and tight interplay, allowing Philadelphy with his Sharrock-charged solo to set its course towards climactic eruptions and deep dives.
Eyal Haruveni
Martin Philadelphy (el.g, v), Kresten Osgood (dr, keys), Trevor Dunn (b), Carl Knast (elec, fl, v), Håkon Guttormsen (tp), Jamie Saft (org, Wurlitzer, Rhodes, p), Jesse Murphy (b), Dan Dieser (dr), Cyro Baptista (perc), Thomas Nyx Scherhammer (lyrics), Rick Parker (tb, synth), Jeremy Carlstedt (dr, perc), Tom Abbs (b)