In the late 1990s three young musicians in the Oslo jazz scene – Paal Nilssen-Love, Ketil Gutvik and Eivind Opsvik – hooked up with two legends – Carl Magnus "Calle" Neumann and Bjørnar Andresen. Neumann and Andresen were extremely important in the development of Norwegian free jazz in the late 1960s and early 70s, playing with Jan Garbarek, Arild Andersen, Svein Finnerud Trio, Terje Rypdal, George Russell and many others.
The project was named The Quintet and it was the meeting of two generations, with Neumann and Andresen passing the spirit of the 60s on to three musicians who would make their mark in the 2000s. But putting the historical importance aside, The Quintet was simply a band of five equal musicians who created unique music together.
In their short time the group only released one album (now long out of print), so it is with great pleasure that PNL Records at the 20th anneriversary of the band can announce the release of «Events 1998-1999» – an extensive 5CD box-set that tells the full story of The Quintet. In addition to the previous album the box-set features four previously unreleased studio and live recordings.
The music heard on the five discs shows the full arc of the band, from their first meeting in a studio to one of their last concerts. To give the music more context the box-set also comes with two booklets of interviews (with Arild Andersen and Ketil Gutvik), liner notes (by Chris Monsen and Paal Nilssen-Love) and many, many photos.
This is the most elaborate project PNL Records have undertaken, with a large number of people helping out and sharing their knowledge. Anybody with even the tiniest interest in the history of Norwegian free jazz is in for a real treat.
The box set will be released by PNL Records on Friday August 9, 2019. It will be available for sale at the 20th anniversary reunion and box release concert at Nasjonal jazzscene Victoria, during the Oslo Jazzfestival on Tuesday August 13, 2019. Bjørnar Andresen passed away in 2005, and will be replaced at the concert by Per Zanussi. Zanussi participated in the band once during the original period 1998-99.
The box set will be distributed by Musikkoperatørene. It will also be available for sale and download at the PNL Records sections of Bandcamp and Catalytic Sound.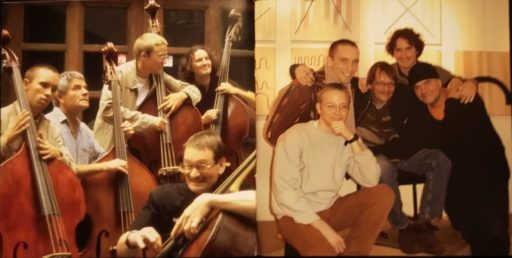 The Quintet — Events 1998-1999
Carl Magnus Neumann: saxophone
Bjørnar Andresen: double bass
Eivind Opsvik: double bass
Ketil Gutvik: guitar
Paal Nilssen-Love: drums & percussion
CD 1.   July 8th 1998, Peter Opsvik AS Showroom, Oslo
CD 2.   March 19th 1999, NRK RADIO, Oslo
CD 3.   March 28th 1999, Vossajazz, Fraktgodsen, Voss
CD 4.   August 14th 1999, Oslo jazzfestival, Blå, Oslo
CD 5.   October 29th 1999, Bergen Jazzforum, USF, Bergen
PNL Recrods PNL047 – 2019